Social Media Marketing plans that make your brand shine.
We design and implement Social Media Marketing Strategies that are:
Effective
Integrated
Realistic
Tailored for you budget
Social Media is a powerful marketing tool to attract and engage your market…if it's done right.  However, many organizations are unsure how to get the maximum potential from social media.  Massive Impressions has pioneered social media strategies and analytics technologies that are suited to the unique needs of large organizations, including companies with corporate messaging that needs to be distributed on a corporate as well as on the local market level.
    Social media strategic planning
    Integrated brand, customer and campaign strategy
    Goal definition and tracking
    Search engine optimization (SEO) for social properties
    Social media monitoring and reporting
    Online reputation management
    Word of mouth marketing
    Blog creation and optimization
    Application and widget development
    Publisher and blogger outreach
 Social Media Presences and Campaigns That Get Results.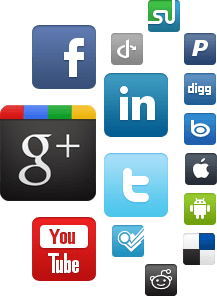 social campaign experience
Massive Impressions has been deep into social from the start, one of the first marketing firms to recognize the effect of social signals on SEO, long before the effect became official.
We create massive social media campaigns involving hundreds of locally targeted social presences.
automation yields amazing results
We've been lucky to have the talent it takes to build and leverage powerful social automation tools. This lets us meet our goals in less time and focus our attention on making our content and message more effective.
all day, every day, all the time
our proprietary social media management systems allow 24/7 automated scheduling of posts and automated tracking and reporting of their audiences
 leverage video for results
800 Million  Users engaged
reach new people – control your message
500 Million accounts created

200  Million active users
network with professionals & companies
200 Million People  use LinkedIn

2.6  Million Companies leverage LinkedIn presences
establish a presence – interact
1.06 Billion Profiles across the globe

680 Million Users on mobile phones

50 Million  Pages represent brands and more
Statistics updated on March 2013.
[si-contact-form form='1′]
Connect
Massive Impressions
Online Marketing
1825 Corporate Blvd NW
Suite 110-M
Boca Raton
,
Florida
33431
Toll Free Phone:
(866) 800-3579
Local:
(561) 232-2424