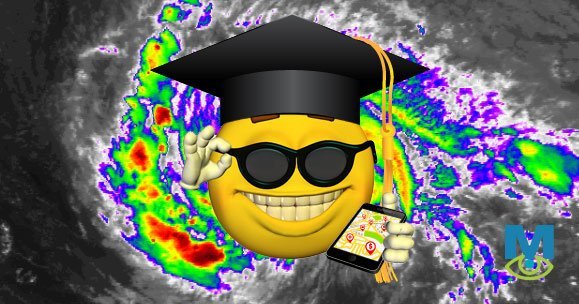 Digital Disaster Experiences – What we learned from IRMA.
Digital disaster experiences change with every new disaster. People's ability to know about, withstand, and react to disaster has grown quickly in the past decade thanks to the excellence of new ideas and the hard work of digital producers. When Hurricane IRMA hit South Florida, the home base of our digital marketing company, Massive Impressions, we took note of how different the digital experience was compared to hurricanes that threatened in previous years. The behavior South Florida's digital audience in front of the hurricane's path was very different due to technology. Florida experienced and unprecedented evacuation with clogged roads, gas running out and trips that normally only take a few hours lasting all day and into the night. The experience of people preparing and travelling was quite different depending on how tech enabled they were.
The looming hurricane and the challenges faced by evacuees were detailed online, making many uncertain about the safety of evacuating. However, digital information tools, websites and apps, made the experience less challenging for people informed enough to use them. Businesses who make revenue online, or use their website to communicate up-to-the-minute information to their customers were able to keep in touch with the community even after power to their brick and mortar location was gone. The value of digital excellence became more clear in the midst of the storm and in the recovery.
"Should we stay or go?"
Being Informed Ahead of Time Online.
Everyone in the "cone", the path of uncertainty of Hurricane IRMA was asking themselves that question. When a Category 5 hurricane rolls over your town, it's not fun during or after. As IRMA approached South Florida, some people were definitely more informed than others. Although broadcast media did their part to inform people, the most accurate statements being made by people, as the hurricane approached, were being made by people informed online.
Someone who needs to be informed about an approaching hurricane can go to TV's traditional national media brands or they can tune into local station news on TV. Alternately, someone online can go directly to NOAA.gov or to a website that aggregates official and scientific data like Spaghettimodels.com. Using the latter allowed us, at Massive Impressions, to see the projection models for the hurricane's path.
Having lived through several hurricanes we've learned to trust projection models, but not depend on them completely. For example, as the hurricane approached we were being told initially its path was predicted over Boca Raton, part of South Palm Beach County on the East Coast of Florida. As the hurricane got closer those models changed and the path was predicted as farther west. It eventually made landfall over the Florida Keys and then over the West Coast's Naples. As the path was projected over the East Coast, some considered travelling to the West Coast to evacuate. As the path changed it became clear that making that decision would have been premature and less safe.
In the middle of a disaster, certainty's demand increases.
Having the up to the minute data was great but putting its certainty into question was also important. Some predictions are more certain, some predictions are less certain. When you're faced with a sea of predictions, on the scope of what the Internet has to offer, putting them in context, ordering them by their certainty is critical. Nobody does that for you when you have digital tools in your hands. Even the most accurate aggregator is another voice in the crowd, so the onus is on the consumer to weigh what's certain against what's uncertain.
Having a cell phone assisted in managing preparation lists and checking with local stores for item availability.
Who had gas? Who had plywood? When will they have it? Where can I get a cat-carrier still?
Having a cell phone made answering these questions a lot easier – sometimes without even making a call. Some business websites were pro-active and updated their homepages and blog sections daily, informing customers and employees what to expect.
Getting things together using smartphones.
Evacuees, people who boarded up their businesses, homes and left Florida, were faced with some really horrible travel experiences. Boxing up pets and making them endure long travels, deciding which items were most important to take or lock up, and making sure vehicles were ready for travel were part of evacuees experiences. Using digital tools made a big difference in how much suffering and delay a traveler endured getting what they needed before their travels.
Evacuees and preparers were slowed down by long lines.
People were asking a lot of questions really quickly. Instead of putting personnel on the phone, answering questions instead of helping customers, many businesses leveraged their websites to communicate critical details to their customers. This made helping the maximum number of customers, reducing lines, possible. Some stores didn't do this, frustrated their customers, and had people walking away. Items in normally low demand, but important for preparers, ran out first, for example: gasoline containers. Chainsaw parts were another thing that flew off shelves, for example. To compensate for local shortages some people used Amazon.com's one day or two day shipping, saving them dozens of disappointing phone calls or trips.
Digital Disaster Experiences Travelling
Using Google Maps to navigate saved time.
Google Maps is a critical tool for evacuees to dynamically route themselves. It shows traffic slowdowns and delays.The Google Maps App (Android) (iOS) lets a navigator communicate to a driver alternate routes, ways to get around the traffic jams and cut literally hours off the trip. It's not something that's easy for a driver to work while driving, but makes the role of navigator, or back seat driver, super-valuable. Having someone who knows how to use it take on the role of navigator is a great way to know where to stop for gas, food or rest room breaks.
Gasoline stations were running out of gas all up and down Florida.
Even days before IRMA made landfall Florida's gasoline stations were hanging bags on the pump nozzles that read "out of gas". Residents know to fill up their cars with gas before the hurricane strikes. Gasoline stations couldn't handle the increase in demand so quickly and ran out of gas. This cause a lot of anxiety on social media, people reporting empty pumps and asking if others knew were gas was. There was one digital tool that made finding gas easy: Gasbuddy. There's an app and a website. Both connect to the same database. Users of Gasbuddy report on the app when there's a store that has gas. Normally the idea of the app is to inform people about gas prices, but during IRMA information it shared about gasoline availability helped lots of people find the gas they needed.
Power plus Internet means Operations continue online.
When businesses do their work online, or leverage their web presences to connect with customers, natural disaster experiences doesn't have to be digital disaster experiences. Work online can continue 24/7 as long as the stakeholders have power and a connection to the Internet. For many business whose employees are located in South Florida that means having someone agree to evacuate, temporarily relocate to a location where online communications can be maintained.
After most disasters, cellphones continue to work.
Although customers may have lost power and Internet connections at their homes, most don't lose connections to the Internet altogether, and rely on information on the Internet more than ever. Corporate phone lines may not be able to be answered, but websites keep on running, and customers go to those websites still, during and after the disaster.
Social media users announced the moment they lost power using their cellphones. And then they were announcing how they fared the worst of the storm, even while their homes and businesses were dark still. Thanks to the Web, business that were still dark didn't need to be quiet – and that made a big difference when they opened their doors again.
Are you ready for the next digital disaster experience?
Getting ready for the next hurricane, especially if there's an evacuation, can be a lot easier for people and businesses if they're familiar with the digital tools that help. These tools we listed here help create certainty in the face of anxious times. When a business delivers on that brand promise, to be certain for its customers who are in need, loyalty is established. When customers are uncertain, an inexcusable condition because of how easy the web is to use today, they try out competitors. Establishing certainty in digital disaster experiences allows a business to define itself to its audience in a way that cannot be overlooked.
https://www.massiveimpressions.com/wp-content/uploads/2017/09/hurricane-IRMA-digital-disaster-experiences.jpg
304
579
Jason Pelish
https://www.massiveimpressions.com/wp-content/uploads/2022/11/mi-340x156-1.png
Jason Pelish
2017-09-26 18:04:19
2017-09-26 18:37:42
Digital Disaster Experiences – What we learned from IRMA.