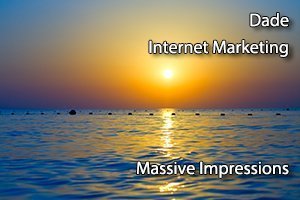 Massive Impressions, located in the heart of South Florida, provides Dade Internet marketing services. Businesses in Dade County who need the best marketing and advertising value in our area choose us as their marketing and advertising partner. Our experience in Internet marketing yielded massive success for businesses in Dade County. One of our founders, Jason Pelish, began in South Beach, in 1995, building industry leading websites and making their businesses grow.
Dade County Internet Marketing: The Riches of a Jungle Where Your Competitors Can Eat You Overnight.
There's a lot of competition online in Dade County. If you're familiar with the history of the internet in Miami, you know how important our area is for connecting Central America and South America to businesses in North America and vice-versa. Some amazing technology, network connections, and work spaces have evolved within Dade County, bringing record business and growing powerful talent. We've been lucky to be part of this boom, and thankful for the opportunities we've pursued, developing connections up and down the Florida coast. The excellence we've delivered in Dade Internet Marketing allows our area to lead the rest of Florida, and look to us for business solutions when it's time to get serious.
There's a lot to be won from strong search engine rank, tons of traffic. Businesses from Kendall to Aventura, From Shark Valley to South Beach can attract the customers they need, if their internet marketing is strong. The business with the strongest presences win. Massive Impressions knows how to make small businesses bigger with the right tactics and strategies for our area, a leader in Dade Internet Marketing.
Massive Impressions is proud to be registered with Dade County as an approved vendor to receive RFP requests and be part of the RFP bidding process.
Learn about the power we bring to Dade County businesses with marketing, both digital and traditional. When you need to maximize your investment in marketing and advertising, call us (866) 800-3579. We're happy to share with you how easy it is to get the results you need.
https://www.massiveimpressions.com/wp-content/uploads/2013/03/DadeInternetMarketing.jpg
200
300
Jason Pelish
https://www.massiveimpressions.com/wp-content/uploads/2022/11/mi-340x156-1.png
Jason Pelish
2013-03-28 12:00:21
2016-04-20 10:29:51
Dade Internet Marketing