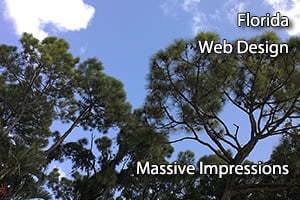 Florida Web Design Services by Massive Impressions get YOU results!
Massive Impressions, located in Boca Raton, FL,  and has provided South Florida web design services and solutions for over a decade. Our experience in web design has allowed businesses in South Florida to meet their goals on time and under budget. We use the web design industry's best tools. We use WordPress, Photoshop, Illustrator, Dreamweaver and many other premiere technologies for web publishing. This lets us create the best looking websites. It lets us create sites that perform.
Florida Web Design Value
What separates good web design from great web design? The output and it's performance.
Web Design Output
Our Florida web design team includes in-house, talented artists  experienced in digital production. This means your site will look awesome. Our team of digital copy writing experts makes sure your site has the right message, the complete message, and that the message is communicated clearly and effectively.
Web Design Performance
The Internet isn't like traditional marketing media. On the Internet everything counts. Every click and every view is logged on a web site's server. You can't fake performance. Determining if your website is or isn't working doesn't  involve guesswork. It involves looking at the data. Lots of "competition" uses duplicitous tactics and depend on misleading claims. We've seen them come and go. What's worked best for us and our clients is traditional brand building. The long term approach wins compared to the fly-by-night strategy.
We're Massive Impressions Online Marketing and we're in Boca Raton, Florida. We're proud of the excellence we bring to our state, which isn't an easy thing. Florida is a technology leader and the competitive environment for online marketers is stiff. To succeed in online marketing you've got to be good, know what you're doing, and be able to  deliver. We've been doing this "internet thing" since 1995 as marketers.
So far we've designed dozens of websites for South Florida Businesses. Browse our  online marketing portfolio.
Contact us our marketing agency in Boca Raton, FL.
https://www.massiveimpressions.com/wp-content/uploads/2013/04/FloridaWebDesign.jpg
200
300
Jason Pelish
https://www.massiveimpressions.com/wp-content/uploads/2022/11/mi-340x156-1.png
Jason Pelish
2013-04-11 12:00:10
2016-04-01 10:19:50
Florida Web Design