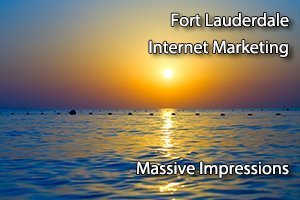 Fort Lauderdale Internet Marketing
Massive Impressions, located in South Florida, provides Fort Lauderdale Internet Marketing Services and Solutions to lead Fort Lauderdale companies. Our experience in Internet marketing has allowed businesses in Fort Lauderdale to meet their goals on time and under budget. If you are located in Broward County and need the best value in web marketing, give us a call. We are proud of web design excellence, our highly aesthetic creative design, our low cost-per-click driving ads, the effectiveness of our email campaigns and the results we get for SEO.
Fort Lauderdale Internet Marketing the Right Way!
We work directly, turnkey, deploying, hosting and managing  with your Content Management Systems (WordPress, Joomla, Drupal)
We create, manage, optimize and integrate your Social Media Channels.  Our secret advantage is this innovative online marketing software, Mi360, integrates your website and Social Media. We built it, we tune it, and we drive results like nobody else can.
No outsourcing overseas here – Our Fort Lauderdale Internet Marketing Services and Solutions are provided by talent who's lived in Fort Lauderdale and Broward County for decades, with close to three decades of experience bringing South Florida Businesses right online solutions.
Jason Pelish, our Principal, started working professionally on multi-user marketing & sales technology when he was 14, back in the early Eighties, after attending SUNY for Computer Programming in New Paltz, NY at 11.  He went on to study pre-med and then environmental chemistry. His skill with computers and integrating diverse technologies put him in the role of Webmaster for a music video company in South Beach, later bought by MTV. He now uses all the experiences to synergize ways complex business challenges can be met online and with automation.
Your success is important to us. So important. It's a battle out there, no small thing to succeed. Your competitors want your business, your revenue and in the South Florida economy, it's like a jungle.
We guard your budget and protect every cent, optimizing every variable we can. Our goal is to provide the most cost-effective and easy-to-use Fort Lauderdale Internet Marketing Solutions.
We engineer aggressive approaches to get the market's business coming to you. We'll bend over backwards to make that happen. We burn the midnight oil and experiment, taking risks to get those big rewards. We fight for you. Massive Impressions provides Fort Lauderdale Internet Marketing Services and Designs that make our clients dominate their market, no less.
See some of the amazing marketing results we've enabled online for Fort Lauderdale businesses: browse our online marketing portfolio.
Contact our online marketing company in Boca Raton, FL.
https://www.massiveimpressions.com/wp-content/uploads/2013/04/FortLauderdaleInternetMarketing.jpg
200
300
Jason Pelish
https://www.massiveimpressions.com/wp-content/uploads/2022/11/mi-340x156-1.png
Jason Pelish
2013-04-01 12:00:20
2016-04-11 11:05:57
Fort Lauderdale Internet Marketing