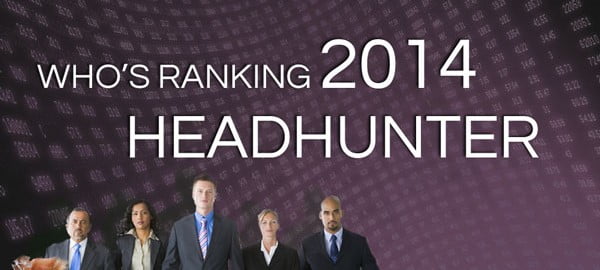 Staffing Industry SEO: Who is Winning in 2014 for the Term: Headhunter
Headhunter: the Blog Post. In this post we're going deep into the industry, deeper than most insiders ever care to trek. In this post we're exploring the term "headhunter" and how it's used in the jungle that is the online Staffing & Recruiting digital ecosystem. We look at which websites are ranking on Google for the term "headhunter" in 2014.
Why is this awkward term something we're paying attention to? It's simple. Search engine users frequently search for the term. We know they're not looking for shrunken heads or to connect with the locals in Borneo. We know that they're using the term "headhunter" for other reasons. And these other reasons aren't necessarily what industry insiders would expect.
Why do people use the term: "headhunter?"
When a word has more than one meaning, it's called a homonym. The term "headhunter" is one of these homonyms with multiple meanings. It has a  gruesome connotation: a collector of heads. More commonly, it refers to someone in the Staffing industry, a recruiter, someone who is looking for candidates to place in a job position. The good matches, the best candidates to fit the job are the "heads" that they're hunting for.
Staffing & Recruiting industry insiders all agree that the term specifically refers to someone who is filling executive and professional level positions, not trade level positions like IT jobs or Healthcare jobs. Industry insiders all know the specific definition of the term, but people outside the industry don't know that.
People outside the industry commonly believe all recruiters are called "headhunters". So it's very common for the majority of people looking seeking a job or a candidate for a job type the term "headhunter" into Google.
Google's own definition is pretty generic: "a person who identifies and approaches suitable candidates employed elsewhere to fill business positions." It doesn't specify the level of the position, in fact it specifically qualifies the term as someone who poaches talent by virtue of their current employment. Industry insiders might disagree that a "headhunter" is necessarily so aggressive. People inside the industry were all surprised when I explained the following to them.
There are a lot of searches for the term "headhunter."
It's indisputable that the term is used more than any other synonym relevant to Staffing & Recruiting.  What's debatable is the exact definition of the term and the ratios of people who use the term specifically, generally, or to mean something completely outside the Staffing & Recruiting industry, for example surfboards.  The nebulousness of the definition is somewhat irrelevant given what's about to be revealed next: just how much this term is used.
Here we show the search volumes, how many times the term was used in a search,  in the United States in a one month period as reported by Google:
Terms, Volume and Relative Ratio

| | | | |
| --- | --- | --- | --- |
| headhunter | recruiter | staffing | temp service |
| 201,000 monthly searches | 27,000 monthly searches | 2,200 monthly searches | 2,100 monthly searches |
| x100 | x10 | x1 | x1 |
The number of people who type the term "headhunter" into Google is 100 times greater than the people who type the term "staffing" into their search boxes.
Wow! What this tells us is that despite the ambiguity of the term's use, it's still the most used term to denote a Staffing industry professional, a recruiter, or someone who knows how to get a job for the person doing the searching. That's how we know for sure that people are using the term more than any other term relevant to Staffing & Recruiting.
You'd expect the Staffing & Recruiting Industry to compete heavily for this term, right? You'd expect every Staffing & Recruiting company to recognize the intention of the search engine audience and leverage the term heavily in their content marketing efforts, right? We thought so initially, but were surprised by what we found when we went to Google and did a cross-city analysis of which companies were ranking on top for the term "headhunter."
An SEO Analysis of the term "Headhunter" for 2014
Who are the  winners and losers on Google for 2014? Want to know how your company is stacking-up against the competition? Who is doing best among Staffing & Recruiting businesses when it comes to getting shown first on Google? This article reveals who's winning the SEO competition, getting the most visitors, visitors who are searching for "headhunter" from Google . There are clear reasons why the winners are winning; we'll explain those reasons to you.
This analysis reveals who's winning and who's losing in the battle for search engine result page rank for the term "headhunter" today in 2014. If your company is on top then you probably know it. Or maybe you're just assuming that because your company was on top because you checked in 2013? Things have changed.
All Search Results on Google Are Local Now
What you probably didn't know is that search engine results on Google are no longer the same regardless of where you're searching from. All search engine results are tailored to a specific or general location, therefore search rank differs from one city another. That's why we're comparing multiple cities.
Search Engine Rank for Headhunter

The Data:
Our Conclusions:
After reviewing the results of search engine rank for the term "headhunter" across 9 separate US cities, here are the trends we've observed and the conclusions we arrived at. In general, across all cities, "authority" played the biggest part in determining the winners because few companies leveraged localizing, geographically identifying, content in their websites.
Headhunter.com leads the pack everywhere we looked.
The domain name is the same as the term. It couldn't be any more obvious why this domain is dominating for this term. No surprises there. This site has sub-pages that are dedicated to featuring jobs in a specific city. In cities where Headhunter.com has a lot of job listings we see something interesting: they're occupying both the first and second rank positions. That's great for them. It reinforces their brand as dominant among the competition simply by virtue of how much screen real-estate is taken relative to the competition, something every smart brand covets. No matter how much Google shifts their algorithms around, Headhunter.com is a likely winner for a long time.
Wikipedia is second after Headhunter.com, Forbes.com comes next.
The high authority of Wikipedia places it in a clear second place rank all across the country. It only ranked third when Headhunter.com beat it with both their home page and a sub-page dedicated to their presence in the city.  Authority is derived by a site when there are lots of other sites linking to it. Wikipedia has more authority than Headhunter.com, but Headhunter.com is more specifically relevant.
Forbes.com has an article where the term "headhunter" is used in the title. Using the term and leveraging their authority, they easily achieve third or fourth place across the board. Forbes.com is a content king, they do just about everything right, a textbook case of how effective SEO works.
Few Other National or Global Staffing & Recruiting Companies Leverage "headhunter" Effectively
With the exception of Lucas Group, no national level Staffing & Recruiting Companies are leveraging the term "headhunter" in their website content. The great majority of competitors in the industry are just refusing to "go for it" like they should. It's such a low hanging fruit. Why isn't there a ton of competition for it?
What are Staffing & Recruiting Decision Makers Afraid Of?
Something is causing this valuable opportunity to go unrealized. Why aren't more companies leveraging this term and getting the clicks they deserve?
Our earlier analysis for the Healthcare Staffing Industry and the IT Staffing Industry examined the terms: "healthcare staffing" and "IT staffing". These are terms that many leading brands have leveraged intentionally in their content with the goal of achieving rank for those terms. Compared to the term "headhunter", these two terms are hardly used by the search audience at all. This is an example of the language used by people working every day inside the industry. But that's not good.
It's not good to use language that only insiders use. It's the opposite of what you need to do if you want to connect with a  bigger audience. It's not good for Staffing & Recruiting companies towards getting more clients, more candidates, more website visitors. We call marketing efforts that speak in the language of the industry "drinking the Kool-Aid" mostly because it can be consequently fatal to meeting your online marketing potential. Ask your candidates and clients what they'd search for to find you. if they didn't know your company's name. Share with us what you find please. Drop a link on Twitter and mention us @MasvImpressions.
The emphasis on those two low volume, insider terms and lack of emphasis on this more lucrative term "headhunter" is a good example of an industry not realizing an opportunity.  Companies who use that term strategically in their web content can fill a high volume niche with relatively little effort. This means more candidates, more clients.
What should Staffing & Recruiting Companies Do?
It's not clear why more companies don't see the opportunity presented by leveraging this term. It's clear that there's a great deal of clicks to be harvested for smart brands to capitalize on a high volume, low competition term. We're recommending that every Staffing & Recruiting company consider leveraging the term in their website content, in their SEO, and when planning content marketing strategies. The companies that take the lead will see more candidates than the ones who follow. The companies who use the term "headhunter" in combination with localizing content will be getting the most business online.

These search engine results were recorded on Monday, July 30th, 2014. Results in high competition areas can change daily. Want to know more about how we obtained this data? Here's our Search Engine Ranking Methodology for 2014.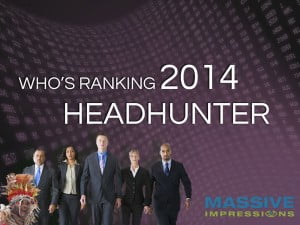 Want to improve your search engine rank immediately?
Contact our online marketing company.
Call (800) 800-3579 today.
Need SEO? Tell us to contact you and we will.
 [contact-form][contact-field label='Name' type='name' required='1'/][contact-field label='Email' type='email' required='1'/][contact-field label='Website' type='url'/][contact-field label='Comment' type='textarea' required='1'/][/contact-form]
https://www.massiveimpressions.com/wp-content/uploads/2014/07/who_is_ranking_2014_headhunter.jpg
450
600
Jason Pelish
https://www.massiveimpressions.com/wp-content/uploads/2022/11/mi-340x156-1.png
Jason Pelish
2014-07-09 10:49:41
2018-05-04 23:15:40
Staffing Industry SEO: Who is Winning in 2014 for the Term: Headhunter