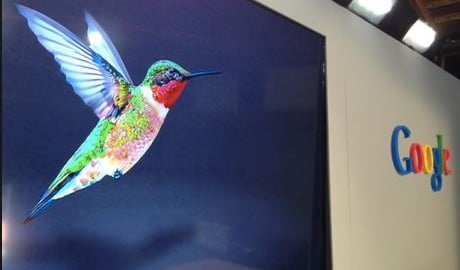 Hummingbird: Will I lose traffic from Google?
Last week we started to get client inquiries about the latest and greatest update from Google, the "Hummingbird" update.  "Does this mean I'm going to lose traffic from Google?".
The consensus among SEO bloggers is that if you haven't lost traffic in the past month, then you were not adversely affected by Hummingbird. This is because it went live over a month ago. If the update was going to negatively impact your site, it would have by now.
As always, Google is  vague in explaining the impact of the Hummingbird update to the web marketer on the street, (a.k.a. those who have not (literally) bought into the Google certification program.)  However, in a nutshell, it appears "Hummingbird" is a tune up of sorts – it represents the first time in the 15 years of Google's existence that they've "replaced the engine" of their search engine.  The goal –  make it work faster, more effectively and more efficiently.
Our interpretation of the Hummingbird update is that it reinforces one of our SEO mantras: search effectiveness is about relevancy and using the language of the people searching. Hummingbird simply goes one step further; they talk a lot about "conversational" language  in relation to the pervasiveness of voice recognition. This is a response to mobile search and the overall shift towards increased mobile device usage.
Massive Impressions will integrate our understanding of this update as follows :
We will continue steering our clients away from the trend away from optimizing for a few specific terms in favor of more a larger set of keyword and phrases to focus on, along with more effort at optimizing pages and posts for long tail searches (e.g. "How can I incorporate RPO into my business?" as opposed to [RPO]).
We will leverage more phrase match strategies – which we've already been doing with Googles updates of their keyword analysis and planning tools which are markedly improved for SEO marketers.
We will continued to focus on the importance of social media marketing – because social relevance scores and inbound links aside, what better place is there to find conversational language?
Ensure Your Target Audience Finds You Online
Massive Impressions creates strategic internet marketing plans around search engine optimization (SEO), pay per click advertising, social media marketing, conversion optimization and search-optimized Web design. Our sustained search engine optimization approach utilizes both organic (SEO) and paid campaigns (PPC) combined with innovative Search Engine Marketing programs (SEM) like inbound link programs, social media strategies and digital public relations.
https://www.massiveimpressions.com/wp-content/uploads/2013/11/Capture1.jpg
340
460
Lisa Pelish
https://www.massiveimpressions.com/wp-content/uploads/2022/11/mi-340x156-1.png
Lisa Pelish
2013-11-04 14:26:30
2015-07-20 21:31:21
Hummingbird: Will I lose traffic from Google?