IT Staffing Industry SEO: Who's Winning on Google in 2014
Who are the IT Staffing Industry winners and losers on Google this year? Want to know how your company is stacking-up against the competition?  Who is getting the best rank: them or you? The big guys or the little guys? The national players or your neighbors?  Who is doing best in the IT Staffing business when it comes to getting shown first on Google? This article reveals who's winning and provides some insight into why they're winning.
This article reveals who is winning and who's losing in the battle for search engine result page rank for the term "IT Staffing" today in 2014. If your company is on top then you probably know it already. What you probably didn't know is that search engine results on Google are no longer the same regardless of where you're searching from. There's no such thing as "global rank" anymore. All search engine results are impacted by location. So therefore search rank differs from city to city.
Search Engine Rank for IT Staffing

The Data:
Our Conclusions:
After reviewing the results of search engine rank for the term "IT Staffing" across 9 separate US cities, here are the trends we've observed and the conclusions we arrived at:
Local Rules SEO in 2014
Over half of the sites ranking within the top ten (55%) are  firms without a strong national presence in the IT Staffing Industry. These are local firms with a focus on serving focused geographic areas. This illustrates Google's prioritization of local content over global authority.
Robert Half Technology Understands SEO
It's great to see at least one firm in the IT Staffing Industry understands the importance of a local SEO strategy: Robert Half Technology. They have pages within their site with content dedicated to each local office's presence in their city.  The effort clearly pays off for them on Google. In 3 out of the 9 cities we analyzed, Robert Half Technology comes up ranking #1 on Google for the term "IT Staffing". Only in New York and Atlanta did Robert Half Technology not appear in the Top 10, not for lack of presence, but rather the stiffness of the local competition.
Modis and TekSystems benefit from strong authority
The Page Rank of a web page is a numeric score Google calculates depending on the authority of a page or site . The more inbound links, the higher the Page Rank is. TEKSystems dominates among the other sites competing for the term. It's Page Rank is a 6.  Compared to Robert Half Technology's Page Rank of 5, it's only for lack of locally optimized content that TEKSystems isn't the across-the-board leader. Modis follows right behind TEKSystems, but beats them in Rank for the cities we analyzed. This could be because of TEKSystem's having two pages on the same site competing for the same term, but other factors beyond this analysis could be influencing their rank as well.
Smaller IT Staffing Industry Companies Have a Chance
What's great to see is how smaller, local companies are able to compete on Google against giants with high Page Rank. This is great news for local businesses when it comes to SEO – it takes less effort, less cost, to get the organic search visits that were once almost completely out of reach, before Google skewed results towards localized content.
The flip side is that large, leading IT Staffing firms need to step up their game. Without a localized content marketing strategy combined with a concurrent local social media strategy for each local office, it's no mystery where the visitors have gone. Now you have to walk and talk local if you want to reach locals. Resting on the laurels of a brand isn't safe any more. If you want to dominate a market, you've got to invest localizing.
These search engine results were recorded on Monday, June 16th 2014. Results in high competition areas can change daily. Want to know more about how we obtained this data? Here's our Search Engine Ranking Methodology for 2014.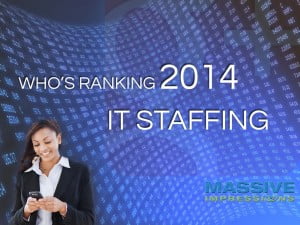 Want to learn more about improving search engine rank?
Contact our online marketing company.
Call (866) 800-3579 today.
Need SEO? Tell us to contact you and we will.
[si-contact-form form='4′ ]
https://www.massiveimpressions.com/wp-content/uploads/2014/06/who_is_ranking_it_staffing_2014_v2.jpg
750
1000
Jason Pelish
https://www.massiveimpressions.com/wp-content/uploads/2022/11/mi-340x156-1.png
Jason Pelish
2014-06-19 08:00:33
2018-05-04 23:15:49
IT Staffing Industry SEO: Who's Winning on Google in 2014