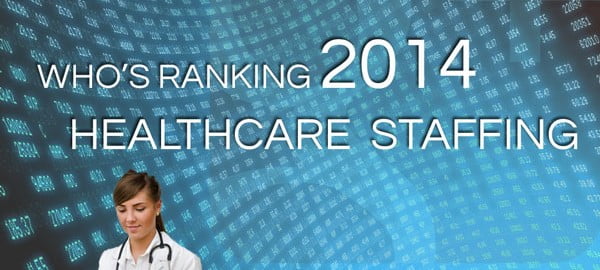 Healthcare Staffing Industry SEO: Who is Winning on Google in 2014
Who are the Healthcare Staffing Industry winners and losers on Google for 2014? Want to know how your company is stacking-up against the competition in the healthcare staffing industry? Who is doing best among Healthcare Staffing businesses when it comes to getting shown first on Google? This article reveals who's winning the SEO competition, getting the most visitors who are searching for "healthcare staffing" from Google .  There are clear reasons why the winners are winning; we'll explain those reasons to you.
This article reveals who's winning and who's losing in the battle for search engine result page rank for the term "healthcare staffing" today in 2014. If your company is on top then you probably know it. Or maybe you're just assuming that because your company was on top in 2013?
All Search Results on Google Are Local Now
What you probably didn't know is that search engine results on Google are no longer the same regardless of where you're searching from. All search engine results are tailored to a specific or general location, therefore search rank differs from one city another. That's why we're comparing multiple cities.
Search Engine Rank for Healthcare Staffing

The Data:
Our Conclusions:
After reviewing the results of search engine rank for the term "Healthcare Staffing" across 9 separate US cities, here are the trends we've observed and the conclusions we arrived at:
Maxim's Cross-City Strategy is a Healthcare Staffing Industry Winner in 2014
Maxim was the only company that made the Top Ten Google positions for each of the nine US cities we looked at. In two thirds of the cities Maxim achieved both the #1 Rank AND had another page listed within the Top Ten as well. This is a clear example of industry dominance for the term "healthcare staffing".
A good example of Maxim leveraging webpages dedicated to the State and to the city they're ranking in is illustrated in the case of Florida.
Maxim has a page dedicated to listing all the offices in the State of Florida.
They also have a specific page for their Miami Lakes location.
On that Miami Lakes page is an embedded Google Map. Google loves that, when you use their Maps product embedded on web pages.
Even without using Schema.org markup, an SEO friendly way of formatting street addresses, simply displaying the office's street addresses as plain HTML text paid off.
Maxim is doing so well on some of its location based pages that they're working in areas they're not intended for. An example of this is in San Francisco and Los Angeles based searches where the Georgia Locations page is being displayed. This is due to Page Rank. a numeric score given to each web page, determined by the number of inbound links to the page. The Georgia Locations page has a Page Rank of 5. Compared to the Maxim Home Page, which has a Page Rank of 4, the Georgia Locations page has more inbound links. It has better authority, so it gets ranked better than the Maxim Home Page.
Bad Web Practice "Form Navigation" Cripples the Biggest
Too many staffing companies don't do plain HTML links to location pages. Instead they use a drop-down field or some other webpage "form" tactic to get visitors to their homepage connected to office locations pages. This is an SEO no-no. Robots can't navigate well using forms. Using a form to navigate to different parts of your website, especially pages that display office locations, is to be avoided.
Kelly Services cuts off its nose to spite its face on its home page by making users choose their country and language. This is an easily avoided mistake that makes even novice web designers and entry level usability engineers cringe.  Despite an EPIC Google Page Rank of 7 out of 10, these form-based navigation elements on the homepage keep Kelly from being #1 and prevents them from getting the lion's share of the organic search audience.
Alliant Healthcare has Cross-City Traction Despite Rank
Alliant Healthcare made it to the Top Ten for 5 out of 9 of the cites despite having a Page Rank of 2. This is a strangely low Page Rank to be achieving search engine results ranks above heavy hitters like Kelly Services. Why is one site with clearly higher authority being beat by a site with much lower number? It could be because a number of reasons that an external analysis of the sites can't reveal. Lack of relevant content, and infrequent publishing are reasons why one site with high Page Rank is doing worse than a site with a low Rank. Penalties being imposed upon the high Page Rank site are the most common reasons for lower than expected Search Engine Rank. These penalties arise from using marketing tactics that were effective previously, but now have been considered spammy or "black hat" by Google. It could simply be because of that webpage form too.
Smaller IT Staffing Industry Companies Have a Chance
Google has changed. For local companies, it's changed for the better. Local companies are now able to compete on Google against bigger companies with higher Page Rank. This means more business, more web traffic, for local businesses. Now it takes less effort, less cost, to get the organic search visits that were once almost completely out of reach. Where before, small businesses didn't have a chance before, now they do.
The bad news for large, leading Healthcare Staffing Industry firms, is that everyone, no matter how big, needs to look and act local. Without a localized content marketing strategy combined with a concurrent local social media strategy for each local office, it's no mystery where the visitors have gone. Now you have to walk and talk local if you want to reach locals. Resting on the laurels of a brand isn't safe any more. If you want to dominate a market, and get in the Top Ten like Maxis has done, you've got to invest in localizing your marketing.
These search engine results were recorded on Monday, June 23rd 2014. Results in high competition areas can change daily. Want to know more about how we obtained this data? Here's our Search Engine Ranking Methodology for 2014.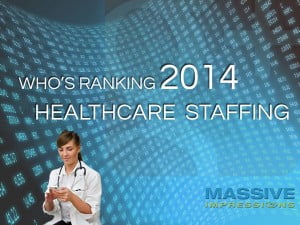 Want to improve your search engine rank immediately?
Contact our online marketing company.
Call (866) 800-3579 today.
Need SEO? Tell us to contact you and we will.
[si-contact-form form='4′]
https://www.massiveimpressions.com/wp-content/uploads/2014/06/who_is_ranking_healthcare_staffing_2014_600w.jpg
450
600
Jason Pelish
https://www.massiveimpressions.com/wp-content/uploads/2022/11/mi-340x156-1.png
Jason Pelish
2014-06-24 15:27:12
2018-05-04 23:15:45
Healthcare Staffing Industry SEO: Who is Winning on Google in 2014