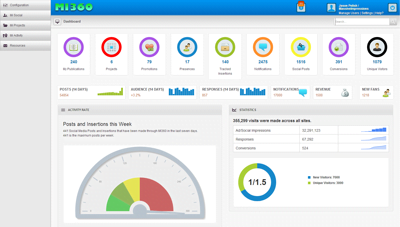 Advertising Measurement and Marketing ROI: MI360° Marketing Dashboard Measures Online Marketing ROI in Real Time
Boca Raton, Florida – They are calls that evoke panic in even the most seasoned marketing professionals:  The CEO phoning to ask how the newest banner campaign performed, or the CFO looking for ROI on this year's advertising ROI. Until now, these calls left marketers scurrying to marketing metrics, which often were not readily available, and took weeks to gather numbers — and the quality of the marketing analytics? Questionable at best.
But the next generation of performance-based campaign management software is here, and it has vastly improve campaign tracking and reporting – particularly in relation to Internet marketing ROI. MI360°, by Massive Impressions, a media buying, planning and strategy firm, is catapulting marketing software development from yesterday's impossibility to tomorrow's new standard.
"Being serious about an advertising investment means demanding results and accountability," says Jason Pelish, Chief Information Officer of Massive Impressions. "Clients today should expect their ad agency to be analytics-based and be able to establish marketing metrics that demonstrate online marketing ROI."
MI360° is a central online hub holding live data of current, past and future advertising campaigns. It is accessed by client end-users through the web, and is integrated with the client's own systems and software, so there is never worry about duplicating marketing measurement efforts or conflicting information.
Clients are able to view what campaigns are running and the corresponding response and conversion rates. as well as download creative ads and reports – an ideal way to demonstrate advertising ROI and document marketing accountability.
MI360° is used for a wide range of tasks, such as:
Collaborative Planning
Managing campaign progress, from inception through reporting
Providing a framework for clear, unambiguous communication
Streamlining client input and revisions
Helping multiple agencies, vendors and in-house resources centralize processes and information
Marketing Accountability
Tracking results accurately
Drilling down to more details on any campaign with a few mouse clicks
Measuring ROI
Every impression is tracked, every dollar spent is accounted for
Cost per lead, cost per response, cost per impression
Reporting results to executives with confidence
Advertising Intelligence
Supplying data for quick decisions and strategies
Storing reports and all related campaign documentation
"MI360° will define marketing optimization, and deliver a whole new level of collaboration and visibility," says Pelish. "We are truly at the forefront of marketing software."
Equally important as MI360°'s power is its development process: a close collaboration between marketing and technology experts. Massive Impressions has marketing veterans who for years worked in corporate and agency environments. CEO Lisa Pelish has lived the frustrations marketing directors experience when trying to get accurate, timely information in an easy-to-understand format and user friendly system.
"We know what information marketers need, how they want to see it, and how they will use it," Pelish says.
About Massive Impressions
Massive Impressions is an online advertising agency, specializing in integrated media planning, media buying and campaign analysis. We provide our clients with online marketing, online creative development, digital pr and search engine marketing support.
For more information, call (866) 800-3579 or visit www.massiveimpressions.com
https://www.massiveimpressions.com/wp-content/uploads/2013/01/MI360_screenshot.png
227
400
Jason Pelish
https://www.massiveimpressions.com/wp-content/uploads/2022/11/mi-340x156-1.png
Jason Pelish
2008-02-04 16:49:32
2013-10-06 22:19:50
Advertising Measurement and Marketing ROI: MI360° Marketing Dashboard Measures Online Marketing ROI in Real Time